Is the Congress Govt Engineering Failure of Telecom Auction to Escape 2G Scam Scar ?
The Congress Government has adopted a very fine line of escaping the 2G Telecom Scam Scar as the Supreme Court went on an overdrive to finish the case and pronounce judgement in a record time.
How is the Congress Government Engineering Failure of Spectrum Auction ?
The Government has under its control various bodies such as the DoT, TRAI, Telecom Commission, etc. The Govt referred the matter of auction to TRAI to come up with recommendations. TRAI likely under the influence of Govt. benchmarked the prices to 3G 2100 MHz Spectrum Auction when in reality 3G Reserve price itself were very low as indicated in the chart below,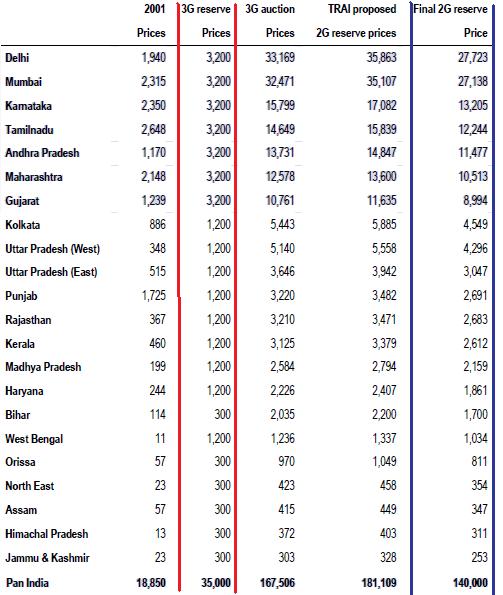 Reserve Price is the Main Point of Contention Here – Had the Government fixed reasonable reserve price, then the auction would be a run away success. You must also note that nobody was coming forward to conduct the auction as even they got to know about the Government's Plot.
Delayed Timeline of 2G Spectrum Auction & Failure – An Eye on Election
BroadbandIndia discusses in detail on how the Spectrum Auction is bound to fail. The failure of auctions would not be a bad outcome for the UPA government as the failure would demonstrate that there was no significant loss to the exchequer due to the 2G Scam and save face during 2014 Elections.
Is the Supreme Court watching the Government's Actions ? Honorable Court must intervene and cut down the Reserve Price to ensure success of the auction in some way because all future telecom license renewals will be tied to this price and the Supreme Court must ensure that this failure of auction should not pave way for more corruption, subsequently as more spectrum allotment by means of renewal is at stake.
Comments