CAG office disputes KG Basin Oil Contract to Mukesh Ambani
The Office of the Comptroller and Auditor General has pointed out irregularities by Shri Murli Deora and others then in the Oil Ministry for favoring Mukesh Ambani in escalating the cost of Development of KG Basin field by 4 times without relevant support documents. The CAG report said,
The undue benefit granted to the contractor (RIL) is huge, but cannot be quantified, the newspaper quotes the CAG's preliminary report as saying. Reliance revised the KG basin development cost almost four-fold between 2004 and 2006 from $2.4 billion to $8.8 billion, "without the company offering a single comprehensive development plan as required under the contract
The CAG Report Further Questions Oil Ministry Officials on overlooking the following matter,
The intent of the operator (Reliance) right at the outset, to submit revisions and changes to the development plan, was evident all through from the submission of an initial development plan (IDP) rather than a comprehensive plan.
You may recollect that last year Anil Ambani had accused the Oil Minister, Murli Deora for favoring Reliance Industries causing huge loss to the Ex-Chequer. The Government under Incompetent PM Manmohan Singh, turned a Blind Eye. However, the office of the CAG
is doing an excellent job, though a bit late and here are the findings as Published in Hindustan Times NewsPaper.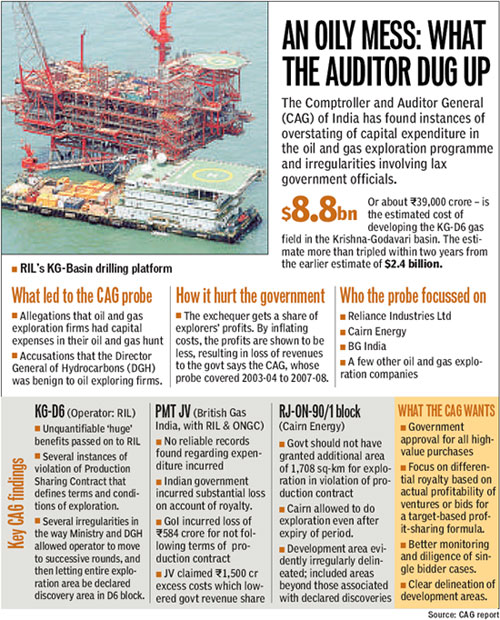 Anna, are you watching the KG Basin Scam as well ?
Comments