Market Share of all Life Insurance Companies India
In line with expectations, life insurance industry's new business volumes in the individual new business segment remained strong, growing 36% Y-o-Y and 23% M-o-M, in August 2010.
In the individual new business segment, while LIC, ICICI, and HDFC improved WNRP industry market share (YTD) by 3.8 percentage points, 1.5 percentage points, and 0.7 percentage points, respectively, Bajaj Allianz (1.8 percentage points), Birla (1.25 percentage points), SBI (1.26 percentage points) and Reliance (0.31 percentage points) lost significantly. At 5mFY11 end, private insurers' market share stood at ~50%.
Here is how Various Life Insurers stack up against each in the Industry as a whole. The following Data suggests that LIC of India is still the market leader followed by ICICI Prudential, HDFC Standard Life, SBI, Reliance, Bajaj, Birla Sun Life, Max New York etc.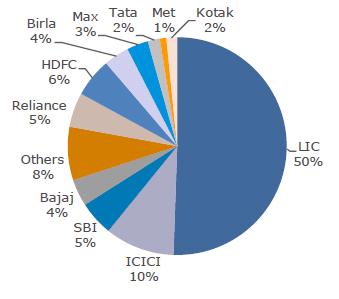 Update April-2011
The Latest Market Share of all the Life Insurance companies operating in India at the end of March – 2011 / FY 2011 is as shown in the Pie-chart below.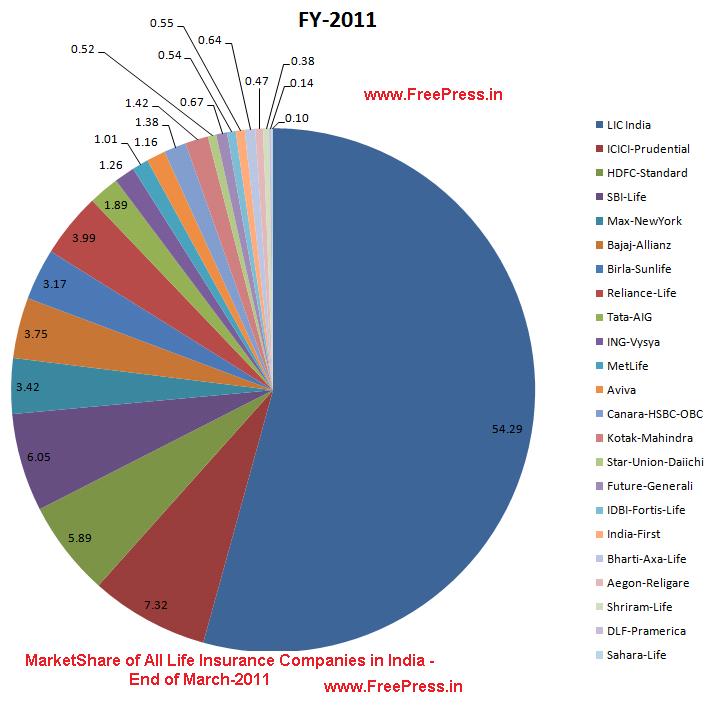 How to Read the Pie-Chart ?Many students have emailed us the difficulty in reading the chart because of too many small components. On the RHS you have names of Insurers – LIC India, ICICI Prudential, HDFC Standard Life etc So start from LIC India in the Chart and Go Clockwise, you will be able to get the percentage share of each of the companies at the end of respective financial year.
Update April-2012
Key Trends of 2012 – Private bank led insurers have fared much better than insurers dependent on agency distribution in volumes (2) Share of single premium policies, which had inched up after the new ULIP guidelines, has reversed now as new ULIP schemes have stabilised. (3) Overall ticket sizes have remained flat for private insurers in FY12 but bank?led insurers have done better
with growth in average ticket sizes aiding overall volumes.
Market Share of all Life Insurance Companies in India at the end of March-2012 / FY 2012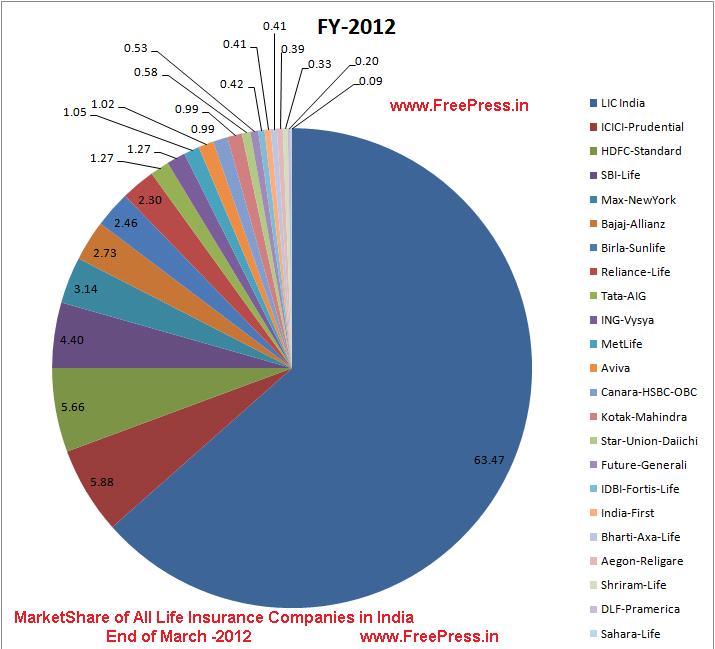 Comments