How Much Gold India Imported in last Decade ?
The rise in physical savings is reflected in higher gold imports as the lure of higher returns from yellow Metal rises. Adding fuel to the fire is the opportunity to conceal Black Money by BUYING Physical Gold is hurting the Indian Economy. Indian Gold Metal Imports rose significantly to US$56bn in FY12 vs US$4bn in FY01. The following Chart Shows the Last 12 Years Gold imports of India which consumes almost 27% of World's Gold Produce.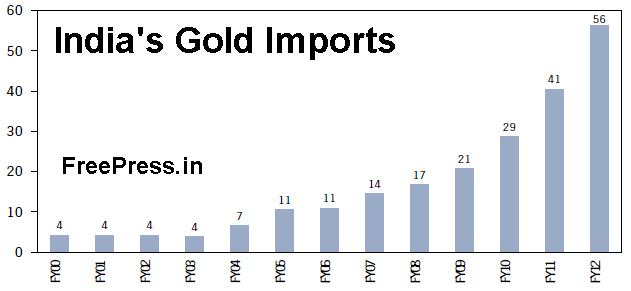 Given that gold makes up ~11% of total imports, the continuous increase in demand for gold would take its toll on the current account RBI measures to curb trends include – increase in gold import duty to 6% and introduce gold-linked financial products to reduce demand for physical gold.
Comments